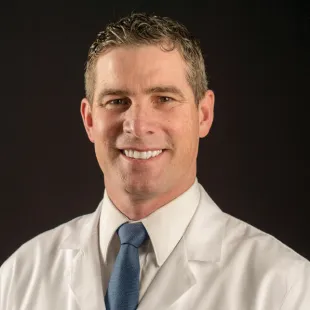 Kent Saunders, M.D., is a double board certified physician in pediatrics and dermatology. He practices general medical and surgical dermatology, including aesthetics. Dr. Saunders earned his Bachelor of Science degree in microbiology from Brigham Young University in Provo, Utah. He served for 16 years in the U.S. Army, receiving his medical degree from the Uniformed Services University of the Health Sciences. After completing a residency in pediatrics, Dr. Saunders completed a second residency in dermatology at the Naval Medical Center San Diego. Before joining Boswell Dermatology, Dr. Saunders was the Chief of Dermatology at Madigan Army Medical Center in Washington state.
With his background in both pediatrics and dermatology, Dr. Saunders has become a trusted provider for patients of all ages. He is fluent in Spanish and has expertise in caring for people of all skin types and walks of life. Dr. Saunders treats all types of skin conditions, from eczema to skin cancer. He also enjoys providing aesthetic treatments for his patients. His goal as your medical provider is to help you get your skin back to its natural, beautiful appearance.
A native of Clovis and Clovis High graduate, Dr. Saunders enjoys living in the Central Valley with his wife and six children. They spend as much time as they can hiking, backpacking, and camping together in the great outdoors.